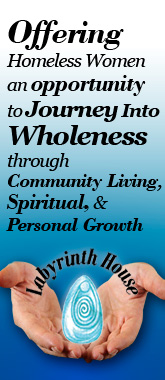 Mission Statement
Labyrinth House Org. will support, assist, teach, and empower single, adult, homeless women toward developing the attitudes and skills necessary for self-sustained living in a family life/community living environment.
Programmatic Vision
Founded by members of an ecumenical group of community leaders from local churches, Labyrinth House Org. is envisioned as being a faith-based multicultural program structured to assist homeless women. Designed with service themes involving Hospitality, Healing, and Hope, the program's initial service aims are:
To provide supportive housing and comprehensive rehabilitation services for supporting homeless women as they discover their particular gifts and purposes in life.
To provide a place where the body, mind, and spirit is acknowledged, nurtured, and treasured.
To provide a place where each resident according to her own vocation will be encouraged to grow in love and wholeness as she journeys toward independence and self-sustained living.